Car Search: Car Hire
Rome Naples Florence
Car Search: Car Hire
Rome Naples Florence
Car Search: Car Hire
Rome - Naples - Catania
Category: News
Published: 16 March 2022

Mercedes 8-seater minibus: leather interior and lots of comfort for your journey!
Frank Autonoleggio's fleet is constantly updated! Always offered, competitive and super affordable prices. Discover the promo on the Mercedes V-Class Extra Long rental ! You won't have such an opportunity again.
Our 8-seater minibus offers space and a lot of comfort. Mercedes-Benz class V / Vito , provides high capacity not only for passengers but also for cargo.
The beautiful full leather seats and luxurious interior will make your journey truly enjoyable! Do you want to travel in a dream car? Rent the Mercedes V-Class now in Rome , Naples and Catania !
We deliver to different locations based on the customer's request. Discover the promo now and take advantage of the discount!
Limited promotion - Mercedes V-class rental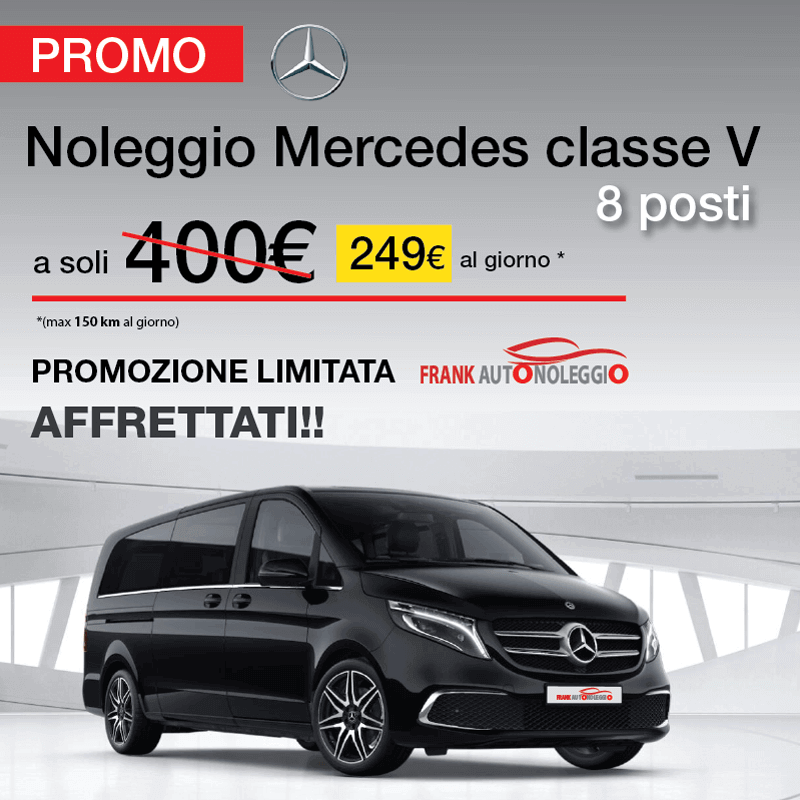 The 8-seater minibus belonging to the Mercedes V class is on promotion for a limited period. To receive the promo and thus block the price, you will need to make the online booking of the car or contact us by phone.
Click here for more information ! Find out how to book in a few clicks!
V-Class Features
The Mercedes brand has decided to give the V-class particular attention to every detail. The V-class stands out for its incredible elegance and charm. Reduced fuel consumption and driving comfort are just some of the incredible advantages of this car.
The Mercedes Vito is ideal for dealing with family trips and business trips, experiencing leisure adventures intensely and transporting passengers aboard a spacious and comfortable shuttle bus . p>
For a journey full of luxury - Book your rental car now!
Mercedes Benz V-Class is luxury! The high-quality interior of this car will add to your favorites list! For a trip in full comfort, rent this car now with Frank Autonoleggio!
The 8-post V-class minibus is designed to offer space and comfort to passengers but also to the driver! This car really has it all! Parking sensors and automatic gearbox make driving really easy and practical.
Visit Rome, Naples and Catania with Frank Autonoleggio
Frank Car Hire's fleet is huge. Our fleet includes cars of all categories. With the rental of a car, you can move independently and visit cities such as Rome, Naples and Catania.
The advantages of renting a car lie in the fact that renting a car is an independent and unconstrained method of getting around. You can travel without clouds.
Our operating offices for the collection and delivery of the cars are located at:
Rome Fiumicino Airport;
Rome Termini railway station;
Capodichino Airport - Naples;
Afragola High Speed Station - Naples;
Catania Fontanarossa Airport.
Our operational offices are particularly convenient for renters who, once they arrive at the station or airport, can directly pick up the rental car without any difficulty! The delivery of the cars is active 24 hours a day!
Come and rent the Mercedes V / Vito class in Rome, Naples and Catania
Renting the Mercedes V-Class is simple thanks to Frank Autonoleggio! All you have to do is fill in the booking form to enter data and rental location. By clicking on "Book" you will see information and prices and you can decide whether to add additional services during the rental period!
If you prefer, you can also write on WhatsApp at (+39) 06 48913412 . I'll give you all the information you need!
What are you waiting for? Hurry up! Rent the Mercedes V-Class now and receive a special price! The promo is about to expire!
Car Hire Frank is an independent company. Our system compares prices of well known car rental companies ensuring you have the option of booking a car at the right price in each place, combined with the constant commitment to meet the needs of our clients.
Locations in Rome
Roma Termini bin. 24: Via G. Giolitti 34, 00185
Phone:+39 06 48913412

Roma Bufalotta: Via della Bufalotta, 127
Phone:+39 06 87134322
Fiumicino Point: Viale Coccia di Morto, 8 - 00054
Tel./Fax: +39 06 48913412

Locations in Florence
Address:Garage Redi - Viale Francesco Redi, 53 - 50144 Drop Point Garage Excelsior - Via Palazzuolo, 94 - 50123
Phone:+39 348 1614903

Locations in Naples
Address:Viale Umberto Maddalena 55A, 80144 Napoli (Aereoporto Capodichino). Parcheggio Via Milano, 104/106 - 80142 (Napoli)
Phone:+39 08118750724

Email:info@autonoleggiofranksrl.it